Our core services
I'm looking for…
High-net-worth
LDN Private Clients
If you are looking to elevate your status across a panel of prestigious funding partners and private banks, or you are seeking dry lending over assets under management, luxury asset based lending or using securities as collateral, our private client department are on hand to help.
01
Service
Service excellence is at the heart of our business. We are renowned for our highly personal and bespoke approach to securing property finance for our clients, ensuring you feel in control and confident throughout your investment journey.
02
Expertise
We thrive in complex, challenging scenarios and work creatively in our negotiations with our trusted network of mainstream, private and specialist lenders to ensure we always secure the best possible outcome for your circumstances.
03
Relationships
We mean it when we say we see you as a valued partner. Our relationship with you is important to us and our team will continue to serve as your personal property adviser long after your first deal with us is completed and over the line.
PROVEN EXPERTISE AND RESULTS
Which service do you require?
testimonials
Our happy clients
Fantastic. The service has been amazing. Romit Patel and Peter Dickson have made the whole process as easy as it can be. Great communication, regular updates and a very caring customer focussed attitude. I can't thank them enough. If you need a mortgage do not look any further. You won't be disappointed I assure you.
Drew and Emma have made our move happen against a backdrop of economic turmoil, rate chaos and juggling a complex buy-to-let and purchase involving several mortgage 'moving parts'. They worked quickly and efficiently with no fuss or stress, just clear communication throughout and a genuine concern to get us into our new house for a family Christmas. And of course most importantly, they effectively delivered a great solution. Just to cap it all, they're lovely people. Our heartfelt thanks to you both for always going the extra mile!
Andrew and Emma were incredible to work with and helped us both re-mortgage our buy to let and secure an affordable mortgage for our new home. This was during a period of fast change and uncertainty and they secured us the best rates possible to make our purchase achievable. They are smart and lovely people who we would highly recommend and will be calling on again next time we need help with a mortgage. Thank you both!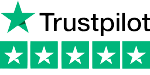 we are here to help
Get in touch
Prefer to chat? Call us on 020 3903 9875





5-star assurance for service and excellence